Presented below is a sample plot of an NRSC-2 test as performed on an FCC approved Spectrum Analyzer.
This plot provides all of the information needed to prove NRSC-2 compliance to +/- 100kHz.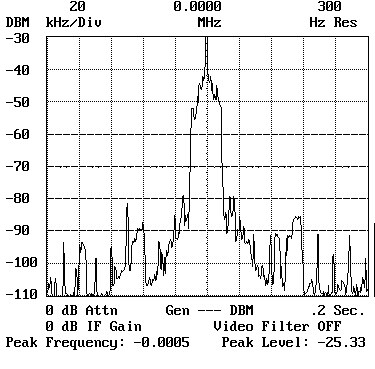 KK Broadcast Engineering performs NRSC-2 tests across Tennessee, Alabama, Mississippi and Georgia. Call for details.
Click Here to Display FCC Rule 73.44 which describes the NRSC compliance mask and testing procedures.
The Plot shown above was created with my IFR-A7550 Spectrum Analyzer (which is the approved method of NRSC measurements) and Portable computer system. With the NRSC plot of your station's signal and the included documentation that I provide, NRSC-2 compliance is easily proved.
If your AM station has not had NRSC tests performed in the past 3 years now is the time to start. If your AM station doesn't have NRSC-2 compliant audio processing or filtering call or email KK Broadcast Engineering today for more information.
KK Broadcast Engineering uses an IFR A7550 Spectrum Analyzer and downloads the collected data to a notebook computer for printing. The resulting plot is printed on an ink jet printer and available immediately after testing. We will assist your engineer in reaching NRSC-2 compliance (if you are not already) and help you maintain your compliance.
KK Broadcast Engineering
49 Ridge Ln
Lawrenceburg, TN 38464-6473
Voice (931) 766-2999
Fax (931) 766-3974