AGSC Project Page
The green states in the map below represents states where AGSC has inspected, repaired or built ground systems. A semi-complete list of projects can be found below the map.

AGSC has plowed in excess of 3.1 MILLION feet of wire in the past 20 years at over 100 sites involving over 200 towers scattered across about 30 states and Northern Mexico.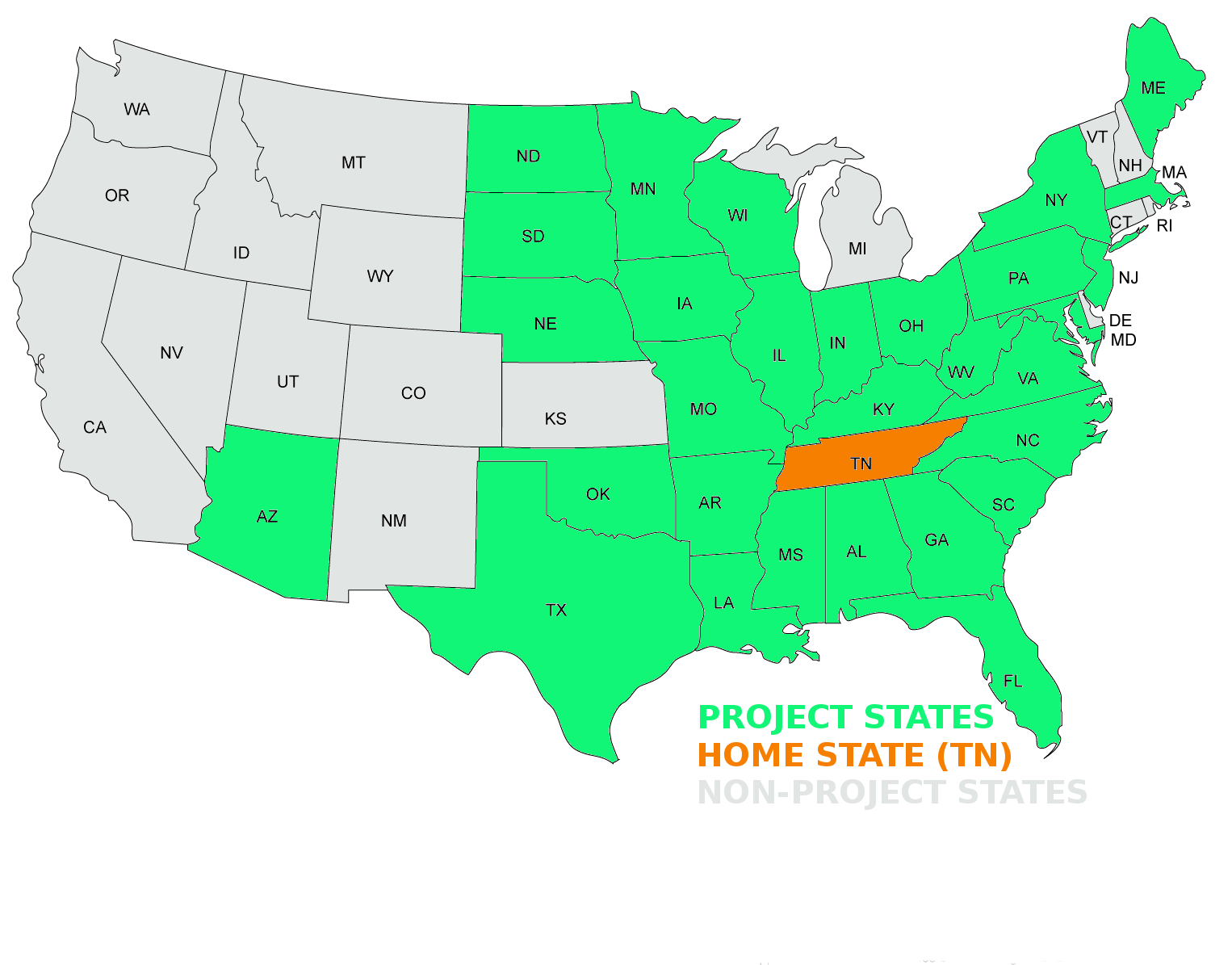 Projects by State
The list below contains most of our projects to date. Click the links to see the project.
PLEASE NOTE:
SOME OF THE PAGES LINKED BELOW ARE HOLD-OVERS FROM A PREVIOUS VERSION OF THIS SITE. LINKS ON THOSE PAGES MAY BE INVALID.
INCLUDING [HOME] LINKS.
IF THE PAGE STYLE IS DIFFERENT, PLEASE USE YOUR BROWSE' BACK BUTTON TO RETURN HERE.

Alabama
WBCF
Florence
New Turnkey ND Site Build
WVNN
Athens
New Turnkey ND Site Build
WTBC
Tuscaloosa
New ND Ground System
WABB
Mobile
Eval & Complete Rebuild DA
WAPZ
Wetumpka
Evaluation
WAGG

Birmingham

Repair 2 tower DA following parking lot construction

WWTM

Decatur

Repair vandalism / theft

WRLM
Irondale
Rebuild
Arizona






KJLL
Tucson
Eval and Repair DA
Arkansa






KWAM

W. Memphis

Repair sample system, install control cables, rebuild control sys, physical improvements

Florida
WNDA
Deland
Rebuild ND Ground System
WLUS
Gainesville
Rebuild ND Ground System
WBWL
JAX
Rebuild DA Ground System
WTAN
Clearwater
New ND Ground System
WNOG
Naples
Eval & Repair Ground System
Georgia
WSWK
Atlanta
New ND Ground System
WFOM/WSB
Atlanta
Rebuild ND Ground System
WGSE
Hogansville
Rebuild ND Ground System
WLCG
Macon
Rebuild ND Ground System
WDUN
Gainesville
Eval and Repair DA
WQXI
Atlanta
Rebuild 4 Tower DA Ground Sys
WVOP
Vidalia
Rebuild ND Ground System
Iowa
KCRG
Cedar Rapids
Rebuild DA Ground System
KWMT
Fort Dodge
Repair DA Ground System
KPSZ

Des Moines

Rebuild elevated 1 counterpoise and repair 5 others

Illinois
WBGZ
Alton
Rebuild ND Ground System
WCFJ
Chicago Heights
Rebuild DA Ground System
Indiana
WBAA
West Lafayette
Eval and Repair DA
WIBC
Indianapolis
Repair Ground Infrastructure
WRSW
Warsaw
Eval and Repair DA
WWCA
Gary
Rebuild 4 tower DA
Kentucky
WDOC
Prestonsburg
New ND Ground System
WFTG
Loundon
Rebuild ND Ground System
WCLU
Glasgow
New ND Ground System
Louisiana
WYLD
NOLA
Rebuild DA Ground System
WBYU
NOLA
Rebuild ND Ground System
KWKH

Shreveport

Replace control cables and repair ground system



Maryland
WFED
Silver Springs
Eval and Repair ND
WXTR
Frederick
Eval and Repair DA
WILC
Laurel
Evaluation of DA
WPTX

California

Evaluation of ND following Vandalism / Theft

Minnesota
KDWA
Hastings
New ND Ground System
KNSI
St. Cloud
Rebuild ND Ground System
WEZU
Stillwater
Rebuild ND Ground System
KTIS
Minneapolis
Evaluation of DA
Mississippi
WYHL
Meridian
Rebuild ND Ground System
WRJW
Picayune
Evaluation
New York
New Jersey

WABC
NYC
Eval and Repair ND
WABC Pt II

NYC

Rebuild portion of ground system following fuel spill remediation

WQEW

NYC

Repair incorrect brazing alloy and install new arc gap balls on 4 tower DA

North Carolina
WAZZ
Fayetteville
Eval and Repair ND
WAUG

Raleigh

Repair following site construction

WCVP

Murphy

Repair incorrect soldering alloy damage

WQDR

Raleigh

Extend radials in preparation for diplex

WIOZ

Pinehurst

Evaluation following vandalism / theft

North Dakota

KSJB

Jamestown

Rebuild 3 tower DA in "slough" / swamp

Nebraska
KNLV
Ord
New ND Ground System
KRVN
Holdrege
Evaluation
Ohio
WCIN
Cincinnati
Rebuild DA Ground System
WCER
Canton
Eval and Repair ND
WCIN Part II
Cincinnati
Repair DA Vandalism
WBCO
Bucyrus
Install new Sample Line
Oklahoma
KVLH
Pauls Valley
Rebuild DA
KTBZ
Tulsa
Rebuild DA
Pennsylvania
WPHE
Phoenixville
Rebuild DA
WICK

Scranton

Rebuild ND following area construction

South Carolina
WQMC
Sumpter
Eval and Repair DA
WYRD

Greenville

3 tower DA, Replace stolen screens and rebuild 1 towers ground system

South Dakota
WNAX

Yankton
Locate feed and sample lines for new construction







Tennessee
WTNR
Waynesboro
Rebuild ND
WDBL
Springfield
Eval and Repair ND
WLSB
Copper Hill
Evaluation
WJXB
Knoxville
Evaluation
WWCR

Nashville

4 tower DA, Repair ground system and remove elevated counterpoise

WYFN

Nashville

3 tower DA, Replace damaged screens following flood

WWLX
Lawrenceburg
Repair






Texas
KRLD
Dallas
Rebuild DA
KELP
El Paso
Rebuild DA
KILT

Houston

Install new sample lines and toroid mounting for MoM proof

KZDC
San Antonio
New DA
KTSA / KZDC

San Antonio

Rebuild entire 5 tower array and install all new cabling for diplex

Virginia
WNIS
Norfolk
Eval and Repair DA
WVAX

Charlottesville

Repair damaged ground system

WNWR

Philadelphia

Rebuild 3 tower DA GS, install all new cabling

WAGE

Leesburg

Build 3 tower DA, Build GS, Install all cabling, assist with TX building.

WMBG
Williamsburg
New ND
Wisconsin
WHBY
Appleton
New DA
WZRK
Lake Geneva
Repair DA
International
Mexico
XEGH
Rio Bravo
Build new ND